Lifting Beam vs. Spreader Beam
2021-11-17
Contributed by Bob Kozickie, Technical Sales Support Manager
Edited by Christy Kutchma, Marketing Coordinator
Lifting Beams and Spreader Beams are significantly different in both appearance and by functional definition. Industry "slang" terminology, however, creates a semantics error, often mistaking which lifter is required on the job by calling both a "spreader beam". There is a distinct difference between the two which can be explained by examining both beam styles.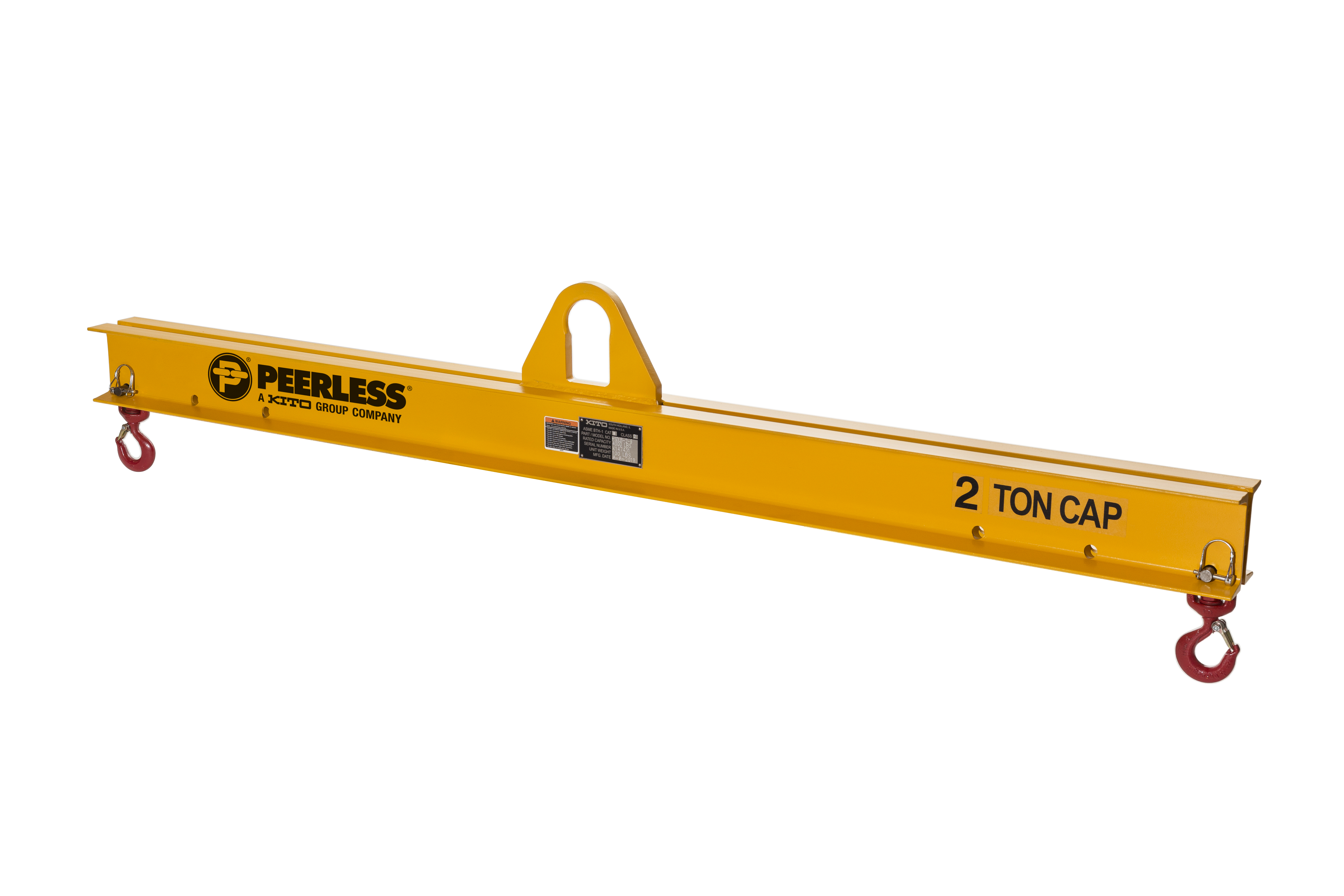 Lifting Beams attach directly to the crane or hoist hook and deflection occurs outward from the center. The strength when lifting is derived from the beam material and configuration. Lifting beams can be manufactured from round or square tube, channel, or I-beams. As the device increases in capacity, the use of I-beams becomes the dominant steel required to attain the higher working load limits. Lifting beams are often supplied with multiple pick points which provide adjustability based on the load configuration and center of gravity (CG). The Lifting Beams design allows for the opportunity to have a low center connection to the hoist hook for areas where headroom is a major concern. They can be engineered as low headroom devices that are often required for Critical Lifts.
Each lifter can be portrayed in a variety of configurations. Lifting Beams can be as simple as a triangular Short Span Lifting Beam with 2 lifting points that are one foot apart to a complicated 4-point adjustable lifting beam with multiple pick points. They can also be used with a single cane or synchronous dual cranes if required.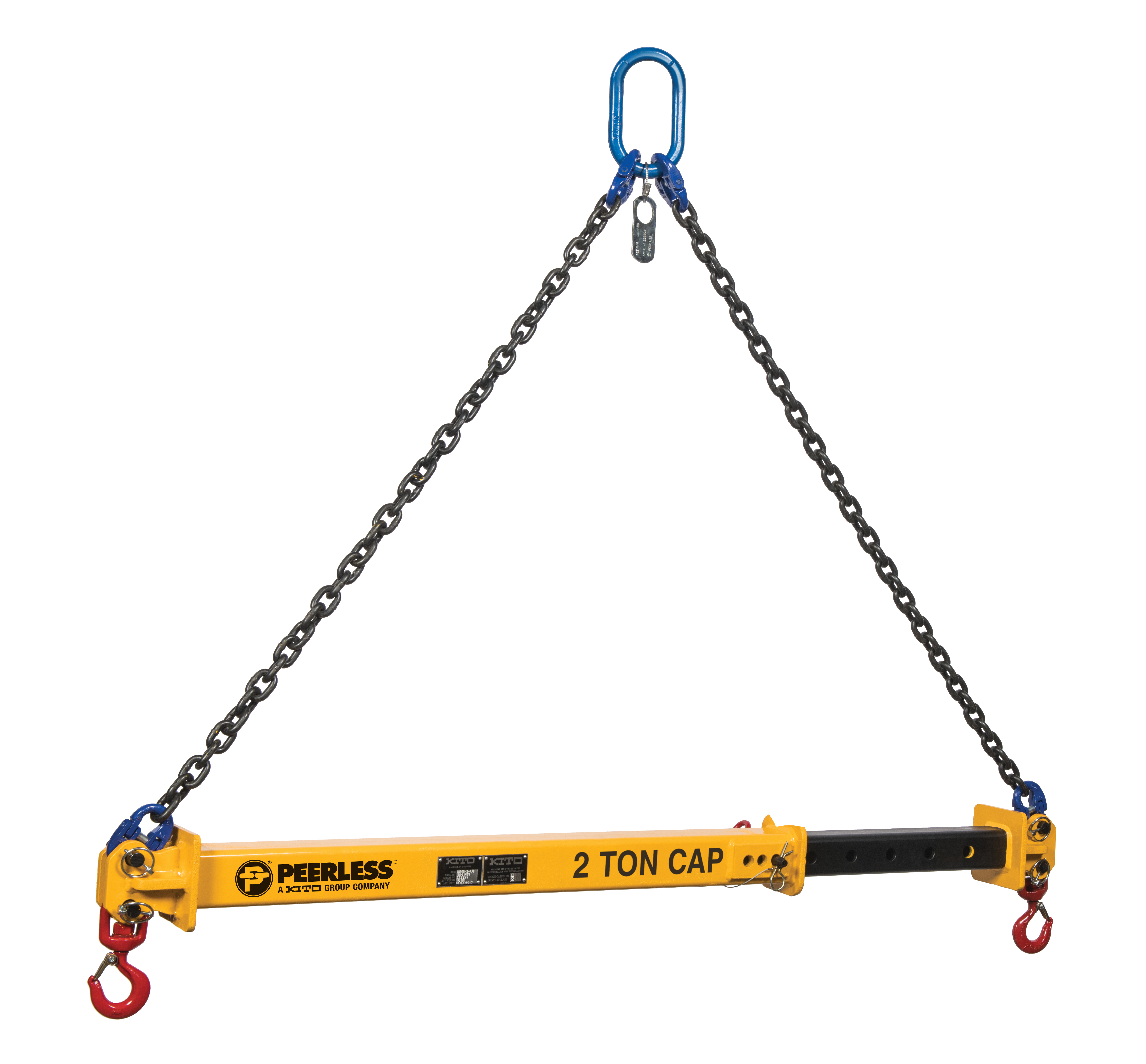 Spreader Beams require top rigging to support the load. The effect of lifting the load with a triangular configuration forces the beam to lift with compression on the beam rather than the deflection that occurs with a Lifting Beam. This creates a slight advantage to using the Spreader Beam over a Lifting Beam in that it provides much more stability. When using a Lifting Beam, the load CG must be centered exactly under the crane hook to attain a level lift. The Spreader Beam does not require that the CG be as exact. The extra top rigging also exemplifies the fact that a greater amount of headroom is needed to lift and transport the load.
A spreader beam has limited configurations available to the rigger. Spreader beams can be fixed or adjustable. They can also be comprised of square or round tubing in a box style spreader beam design. End Cap Spreader Beams allow the rigger to the opportunity to stock a variety of different length Schedule 80 pipe to accommodate different loads. They must follow a matrix that will change the lifting capacity based upon the length of pipe being installed.
When ordering either style of lifter, it's important to request the correct device that is required. Each one has limitations that make it the preferred choice to make a required lift. Finally, verify that the beam is designed in accordance with the ASME B30.20-BTH-1 design criteria with the applicable Design Category and Service Class. The beam is also required to be proof tested to 125% of its rated capacity before placing it into service.
Contributed by Bob Kozickie, Technical Sales Support ManagerEdited by Christy Kutchma, Product & Marketing Associate There are three styles of grab hooks manufactured for overhead lifting:  Non-Cradle, Cradle, and Chain Shortening Grab Hooks. Each are designed to shorten, choke, or basket alloy chain slings in a variety of lifting applications. When use...